2GIG GC3e ESeries Security & Home Automation Control Panel
7-Inch Color Touchscreen For 2GIG & Z-Wave
Simplify your daily life and secure what matters to you the most by outfitting your home or business with the 2GIG GC3e eSeries Security & Home Automation Control Panel. This touchscreen control panel serves as the intuitive and powerful hub for all of your Z-Wave and 2GIG security and automation devices. It supports up to 100 wireless zones and two hardwire zones, providing complete coverage for even the largest homes and average-sized commercial buildings.


Compatible with Z-Wave and 2GIG devices
eSeries encrypted technology provides enhanced security
Smart Areas allows up to 4 independent security zones
Supports up to 232 Z-Wave devices
100 wireless and 2 hardwire zones
Supports up to 100 user codes
Use a smartphone to monitor automation & security sensors, security cameras, and more (with remote monitoring account, Alarm.com recommended)
Built-in 85db alarm sounder
Designed to become the foundation for a comprehensive system, the 2GIG GC3e eSeries Security & Home Automation Control Panel works with any Z-Wave device from any certified Z-Wave manufacturer. Use GoControl to manage Z-Wave and 2GIG security sensors, lights, locks, thermostats, appliances and more. Two hardwire zones also allow connection of third-party wired security sensors, sirens, modules, etc.
Smart Areas
As 2GIG's new partitioning solution, Smart Areas allows you to create up to 4 security sections in your home or business. This will allow you to keep some sections armed while leaving other sections disarmed. For example, you can select the following as your 4 sections:
Main House: Keep your main house safe while independently securing different parts of your home.
Garage: You can disarm the garage while you're at work, allowing packages to be delivered and stored safely.
Guest/Rental: By sectioning off rental areas of your property, you can arm certain sections of your property that are off limits to guests.
Office: Arm a section of a room (like in an office) that is isn't accessed all the time, which could contain a safe with valuables inside.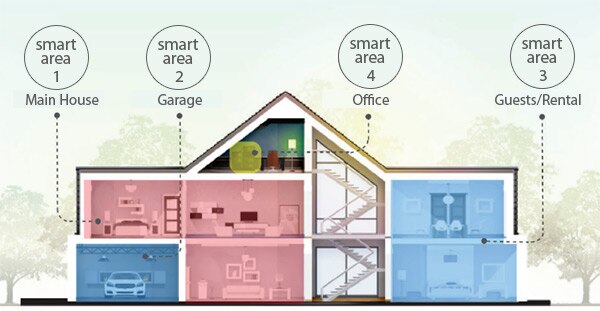 Other Features:
Touchscreen Display: With an intuitive, gesture-based user interface, the full-color touchscreen display is large at 7 inches (17.8 cm) diagonal.
Piezo Sounder and Internal Speaker: External alarms are sounded by an 85 dB Piezo Sounder, while voice annunciations, chimes, and other system notifications are delivered by an internal speaker.
2-Way Voice: End users can communicate directly with operators at the Central Station via the GC3e Panel. Additionally, operators can silently listen-in after receiving a duress report from the end user.
System Vocabulary/Voice Descriptors: A list of vocabulary words can be integrated with the on-screen user interface and audio announcements. Sensor names and audible system announcements that are displayed on the GC3 panel can be customized. For example, when someone opens the front door, the system can be set up to announce "front door."
Remote Monitoring: With a remote monitoring account (Alarm.com recommended), you'll be able to use your smartphone to check whether or not you locked the front door or turned down the heat. You'll even be able to open the garage door remotely to ensure your package is delivered safely and watch video of it from one of your connected security cameras.
Z-Wave and Z-Wave Plus Compatibility: Up to 232 smart home devices can be added to communicate with the GC3e Panel using the Z- Wave and Z-Wave Plus wireless communication protocol.
Voice Assistant: Works with Amazon Alexa and Google Home. Go hands-free and ask your favorite voice assistant to turn on lights or arm your security system.
Alarm Button/LED Indicator: By tapping this button, you'll see the Panic, Fire, and Emergency buttons on the screen.
Home Button/LED Indicator: This button wakes the touchscreen and give users the ability to return to the touchscreen's Home screen.
Removable Faceplate: A removable faceplate conceals a door lock for the Cellular Radio Module bay.
Microphone and Speaker: A built-in microphone and speaker provide clear 2-Way Voice communication during alarm events between users at the GC3 Panel and operators at the Central Station.
Cellular Radio Module with Internal Antenna: A snap-in Cellular Radio Module with an internal antenna fits neatly in the side panel. It transmits alarms and trouble alerts to the Central Station, and also supports 2-Way Voice communication.
24-Hour Backup Battery: A 24-hour backup battery supports the GC3 Panel during temporary AC power failures and outages.
USB Port: A USB port is located at the top of the GC3 Panel. It can be used with a USB thumb drive (sold separately) to update the system's firmware.
WiFi: The built-in WiFi module allows the system to be connected to a WiFi network for dual path communication, OTA updates, and connection with secondary keypads.
Video & Slideshows: Demo and promo videos keep users up to date and educated. Use personal photos in a slideshow when in standby mode.
Ethernet (optional): An Ethernet module can be added to the system to allow for a hardwired connection to a local network for dual path communication, OTA updates, and connection with secondary keypads.
Access Point: The built-in Access Point allows for a direct connection with secondary keypads via WiFi without the need to connect to a local network.
Z-Wave Plus Certification

Z-Wave Plus is an upgraded certification program to help you identify products that take advantage of the "Next Gen" Z-Wave hardware platform, also known as 500 Series or Gen5 Z-Wave. Z-Wave Plus certified solutions feature a selected set of extended features and capabilities that enhance your experience with faster and easier installation and setup. Z-Wave Plus advancements also provide longer battery life, faster operation, better wireless range and improved noise immunity.
Installation Details
The control panel either mounts to a wall using the integrated mounting plate and three screws, or sits on a tabletop when placed in the optional 2GIG GoControl Desktop Kit (2GIG-CP-DESK, sold separately).
There are two ways to connect the wires for the power supply to the GC3 Panel:
Terminal Block: Securely fasten a 2-conductor power wire (not supplied) to the appropriate PWR+/PWR- screw positions on the GC3 Panel's terminal block.
Barrel Connector: A plug-in power supply with a barrel connector (part# 2GIG-AC2-PLUG, sold separately) can be plugged into the DC power adapter's barrel jack on the GC3 Panel. IMPORTANT: When selecting a wall outlet, never connect the plug-in power supply to a switch-controlled outlet.
Contents
Note: Power adapter not included (model 2GIG-AC2-PLUG recommended). All Internet capabilities require an active remote monitoring account (Alarm.com recommended).
Innovation Drives 2GIG Technology
Now under Nortek's family of Linear products, 2GIG offers intuitive and creative home technology with its premier self-contained, all-in-one security and home automation system. 2GIG's GoControl system has become a leading control hub for Z-Wave wireless systems, has and won numerous industry awards, including TechHome's 2011 Security Product of the Year and the 2012 Overall Maximum Impact Award at Electronic Security Expo (ESX). With 2GIG in control, users experience technology they never thought possible.
Description
Compatible with Z-Wave and 2GIG devices
eSeries encrypted technology provides enhanced security
Smart Areas allows up to 4 independent security zones
Supports up to 232 Z-Wave devices
100 wireless and 2 hardwire zones
Supports up to 100 user codes
Use a smartphone to monitor automation & security sensors, security cameras, and more (with remote monitoring account, Alarm.com recommended)
Built-in 85db alarm sounder
Contents
Manufacturer Part #: 2GIG-GC3e-345
Panel:

7″ capacitive touchscreen
Photo slide-show
Demo Video playback
2-Way Voice
One-touch arming
Capacitive-touch buttons – Home, Emergency
Built-In Dual-Band Wi-Fi 802.11
5-Day weather forecast
eSeries Sensors
Smart Areas

Security:

100 Wireless Zones
2 Wired Zones
32 Keyfobs
8 Keypads
2 Open Collector Outputs
Wired Bell Output
100 Users

Communication: User-replaceable cell radio with integrated antenna

Other options (not included): 4G LTE – Verizon Network and AT&T (coming soon), 3G – AT&T Telus, CDMA – Verizon Network

Automation:

Integrated Z-Wave Plus radio
Supports up to 232 Z-Wave devices
Create and execute Scenes
Create Rooms
Bookmark Screen

Firmware Updates:
Installation:

Third-hand strap
Easy-to-align center mark
Integrated level
At-a-glance programming

Power:

100-240VAC 50/60Hz 1.7A 14VDC adapter
Lithium-Polymer backup battery (24 hrs.)
Operating Temperature: 32° F to 104° F (0° C to 40° C)

Certifications:

UL985, UL1023, UL1635
ULC C1023, ULC S545-02 (Canada)
ANSI/SIA CP-01 2010
CSFM

Warranty:

Panel warranty: Limited 3 years