-

$

29.96
SkylinkNet Connected Home Alarm System
Plug-N-Play Security System
SkylinkNet DIY home security system offers wireless access to the system controls via your smart phone. You can arm and disarm the all-in-one system, as well as see the sensor status, with the mobile app. Whenever a new activity is detected, a red LED light will flash inside the sensor, and you will receive push notifications as an immediate alert to that activity (usually faster than a monitoring station can react to the alarm by calling you). In addition, an integrated siren would deter would-be intruders and provide you with local notification.
As with all DIY home security systems, the SkylinkNet alarm system is easy to install (plug-and-play) and is designed to be set up in minutes. What's more, the sensors can be easily removed, should you move and want to take your home security system with you to your next home. The SkylinkNet app is available for iOS devices. You can customize system settings such as entry delay, exit delay, and alarm duration, all from the app. You can also add up to 10 home security cameras inside or outside and up to 100 sensors and controllers throughout your home as you see fit. SkylinkNet is also compatible with other home automation devices, and they can all be controlled simply and efficiently from your smart phone via the SkylinkNet app.
Includes 1 motion sensor, 2 door/window sensors
Arm/disarm system via mobile app or keychain remote
Integrate 3rd-party devices through IFTTT compatibility
Receive push notifications and review event logs
Battery-powered sensors, no wiring required
All mounting hardware included
The kit comes with one indoor motion sensor, two door/window sensors, an Internet Hub that links the sensors to the cloud, and a keychain remote. The system can be expanded with add-on accessories (sold separately).
Because the Internet Hub is compatible with SkylinkHome automation devices in addition to SkylinkNet security devices, you can incorporate home automation into the security system. It's perfect for adding remote control lighting, garage door openers, appliances and more.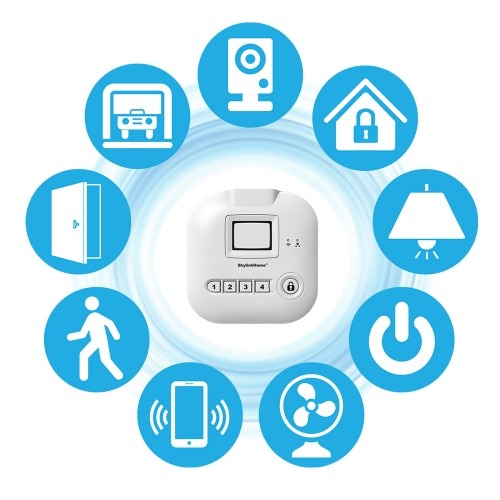 System Components
Internet Hub: Connects your wireless SkylinkNet and SkylinkHome devices to the Internet, enabling remote control via the free SkylinkNet mobile app for iOS and Android. Plugs into your Internet router.
Motion Sensor: Wireless indoor motion sensor with 360-degree detection range. Adjustable sensitivity for ideal setup. Mounts to a wall or sits on a table. Battery-powered.
(2) Door/Window Sensors: Monitors the open/closed status of a door, window, or other open/close object. Battery-powered.
Keychain Remote: Keychain transmitter with four buttons to set Arm Away, Arm Home, Disarm, and Panic. Optional password protection.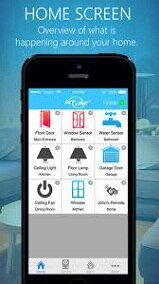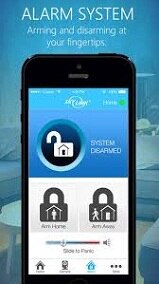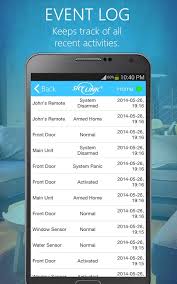 Setup Details
Each sensor easily installs with the included hardware. The Internet Hub can communicate with these devices, as well as other SkylinkNet and SkylinkHome devices, up to 600 feet away, providing coverage for your whole system.
The hub simply plugs into your Internet router and its power adapter plugs into a power outlet. When you send a command through the SkylinkNet mobile app, the hub receives the command and then transmits a wireless signal to the corresponding device(s). An easy-to-read, backlit LCD display gives you convenient control over the hub.
»SkylinkNet SK-200 Alarm System Start Kit Quick Start Guide (.pdf)
Kit Includes
Internet Hub (HU-100)
Motion Sensor (PS-MT)
(2) Door/Window Sensors (WD-MT)
Keychain Remote (MK-MT)
Power Adapter
Ethernet Cable
Mounting Accessories
Note: Requires one (1) AA and six (6) AAA batteries, not included. Also requires an Internet connection.
The Skylink Group
The Skylink Group understands the needs and concerns of homeowners in providing a safe haven and comfortable environment for their families. The group offers a comprehensive range of products to meet all home operation and security needs, including wireless alarm systems, emergency dialers, motion detector sets, sensors and alert mechanisms. The group has been manufacturing electronics for over 14 years, and continues to enhance features and test technology on an ongoing basis to ensure reliability.
Description
Includes 1 motion sensor, 2 door/window sensors
Arm/disarm system via mobile app or keychain remote
Integrate 3rd-party devices through IFTTT compatibility
Receive push notifications and review event logs
Battery-powered sensors, no wiring required
All mounting hardware included
Kit Includes
Internet Hub (HU-100)
Motion Sensor (PS-MT)
(2) Door/Window Sensors (WD-MT)
Keychain Remote (MK-MT)
Power Adapter
Ethernet Cable
Mounting Accessories